I have had my pink hair for 4 years now, but before that I was purple, blue and bright red. I LOVE my pink hair. But I don't love the upkeep. I often get people asking me how often I have to dye it. The reality is NOT OFTEN ENOUGH! I love it bright and bold but it really doesn't stay as bright as I want it to for too long. It will end up turning this funky orangey-pinky color that is NOT pretty.
Not the most flattering picture to begin with, but it would have been better if my hair hadn't turned salmon.
oVertone Haircare tweeted at me and said they could help with the line of color depositing conditioner that I could use daily! This was exactly what I needed – I am conditioning my hair anyway, so it's no extra effort on my part like constantly dying it.
So with my hair fading, I tried the daily conditioner. I'm shocked and amazed at how well it worked! My roots started fading only a week after my last color, and with oVertone you could never tell. And don't worry, it's semi-permanent and won't hurt your hair. oVertone is also not tested on animals. My daughter has been asking for a little pink in her hair – oVertone is a perfect choice to give her a little color without committing to it. It will gradually wash out just like other semi-permanent hair colors do when you stop using it!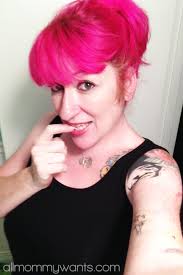 This was JUST the oVertone Daily Conditioner after one wash! With results like this I am super excited to try the Go Deep Conditioner this week. So my hair will stay nice and BRIGHT, just the way I like it 🙂
oVertone comes in a variety of colors and shades too – not just pink! You can get any of these colors in 3 different shades: Pastel, Vibrant, or Extreme:
Orange
Red
Pink
Purple
Blue
Teal
You don't need to have pre-dyed hair either – try it as a wash over your normal hair color for a fun change! If you are blonde try using oVertone on just the ends for an easy ombre! Check out Katy – a former blonde who wanted to do something fun and different! Also check out the oVertone Pinterest page for some incredible inspiration!
I am really excited about oVertone – I want the Go Deep in Extreme Blue to do an ombre. I had one before but it was SO difficult to keep up, that I just gave up on it. With oVertone it will be EASY 🙂
Want to try it? Head over to oVertone to check it out! Want to WIN a set? You can right here – enter by using the form below and you could WIN a Complete System in your choice of color and shade! Ends August 18th!
a Rafflecopter giveaway

I was supplied with the product(s) mentioned, however all opinions expressed are my own.