* I received the product(s) mentioned in exchange for this post. All opinions are my own.
Every year I enjoy making gifts to give to family and friends – the heartfelt nature of it is something that just can't be replicated with store-bought! One vital piece to the puzzle is P-Touch by Brother!
Brother's PT-D200 ($39.99) is an affordable, easy-to-use label maker.  The PT-D200 works with fabric tapes and laminated-washable tapes in a wide array of colors, making this label maker handy for any type of DIY projects and all kinds of crafters!
I received a collection of P-Touch tapes along with the PT-D200 printer. I'm kind of in HEAVEN.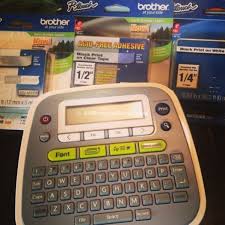 I love labeling things – everything has a spot and everyone in the family knows where that spot is thanks to P-Touch. But using it for gifting? That brought up a whole new world for me!
I decided that I needed to make something for my girlfriends. I am a big advocate of coconut oil and using it in my beauty DIY goodies, so I decided I would make some Coconut Brown Sugar Scrub!
Ingredients:
1/2 cup coconut oil
2 cups brown sugar
5 drops Vanilla oil (or your favorite essential oil, I prefer the food scents)
Whip coconut oil in a blender until it's the consistency of yogurt. Add vanilla, then fold in brown sugar.
For the container:
Mason Jar
Scrap of fabric
Spray paint in complimenting color
P-Touch printer (I used the gold lettering tape)
Spray adhesive or craft glue
Spray paint the ring of the lid and let dry. While drying, trace the round inner part of lid onto fabric and cut out, then glue onto the lid. Wrap P-Touch label around the rim of the lid. Fill with scrub and gift to your friends!
You can use smaller jelly jars for this project too. Your friends will LOVE it – and it's yet another great way to use your P-Touch Printer! You can find a local seller HERE! You can find Brother products at most retailers, including Best Buy, Amazon, and Walmart!