When it's not raining (remember I live in Portland), I like to take my kids out for a walk. Sometimes we go to a park, sometimes to get ice cream, sometimes just to enjoy the rare sunshine. Walking in flip-flops or plain flats can make my feet hurt after a while – there's just no support in them! Vionic has some great options that are perfect for walking around.
I was sent the Allie Casual Walker in Navy/Turquoise from the Spring 2015 collection. OMG I am in love. They are SO comfortable and cute too boot!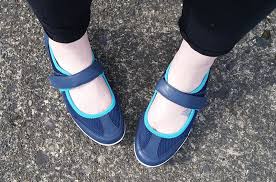 I love the Mary-Jane style – always have! And of course walking is one of the best things you can do for your health. It's also the easiest – just get up and get out of the house! Wearing my Vionics makes me forget just how much I have walked and just enjoy it. With spring here it's also an easy excuse to take a long walk somewhere.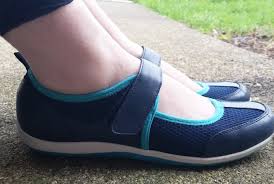 Every year Vionic Shoes sponsors the Vionic Walkout – a 30 day challenge to take steps everyday toward your health and well-being. Although this year is done you can still get inspired with the Guide to Getting Active, featuring tips from renowned integrative medicine expert Dr. Andrew Weil, celebrity trainer and leading fitness expert Juliet Kaska, and more. Subscribe to the Vionic newsletter and you'll get a FREE download.
I love my new Vionic Walkers – check them and many more out at VionicShoes.com!