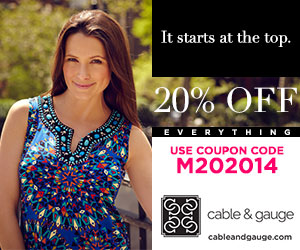 I am SO excited to introduce a truly awesome shopping site for women's clothing –
Cable & Gauge
! Cable & Gauge has some gorgeous tops, skirts, dresses, and jackets for a mom-on-the-go like me who doesn't really have time to *think* about what I am going to wear.
I got the opportunity to try two different tops. Super adorbs tops!
Cowl Crochet Shirt – $29                                            Button Back Stripe Tee – $24
So let's start with the Cowl Crochet top – Oh em gee it's so cute! It doesn't look like much from the front, but the back has a nice surprise!
A pretty crocheted lace inset along with a draped cowl along the bottom. So sweet! I love little surprises like that. I got a size medium which fits me perfectly.
(hello cheesy pose)
The Striped Tee is also really soft and comfortable – AND also has a surprise row of buttons down the back. Can you tell I like unexpected elements in my clothing?
This is also a size medium and fits me well. It's a little loose, which I love in a tee. The sleeves are capped with a striped edge.
The cotton blend fabric (with both tops) is nice and soft, hangs well, and isn't clingy. It has a sort of heaviness to it that I love and can't often find in regular shops.
Cable & Gauge has some gorgeous new arrivals too – including a brand new crochet dress that is absolutely beautiful. It has a sort of Great Gatsby look to it without being costume-like. It's really a beautiful dress – I can see it dressed up with some heels or down with leather sandals.
You NEED to check out Cable & Gauge – so many pretty things for you to try and buy! Be sure to use code M202014 for 20% off your order!
*I was supplied with the item(s) reviewed, however all opinions are 100% my own. This post contains affiliate links.